All-New Canopy Camping System
The Far-Out canopy offers a range of impressive features that ensure a comfortable and convenient outdoor experience. It's constructed with a black powder-coated aluminum alloy, providing both durability and an appealing aesthetic. Despite its lightweight design, it maintains a superior strength to weight ratio, allowing for interior storage of dirt bikes, quads, tools and work equipment and other gear.
From lightweight construction to lockable doors, the Far-Out Canopy is in a class of its own.
Powder coated aluminum alloy construction
Lightweight yet superior strength to weight ratio
Corrosion resistant, UV stable, will not rust
Large lockable rear door access
Rain gutters on all openings
Self lowering struts for the drop down beds
When fully opened creates spacious interior living space
Two 2" mattresses and covers included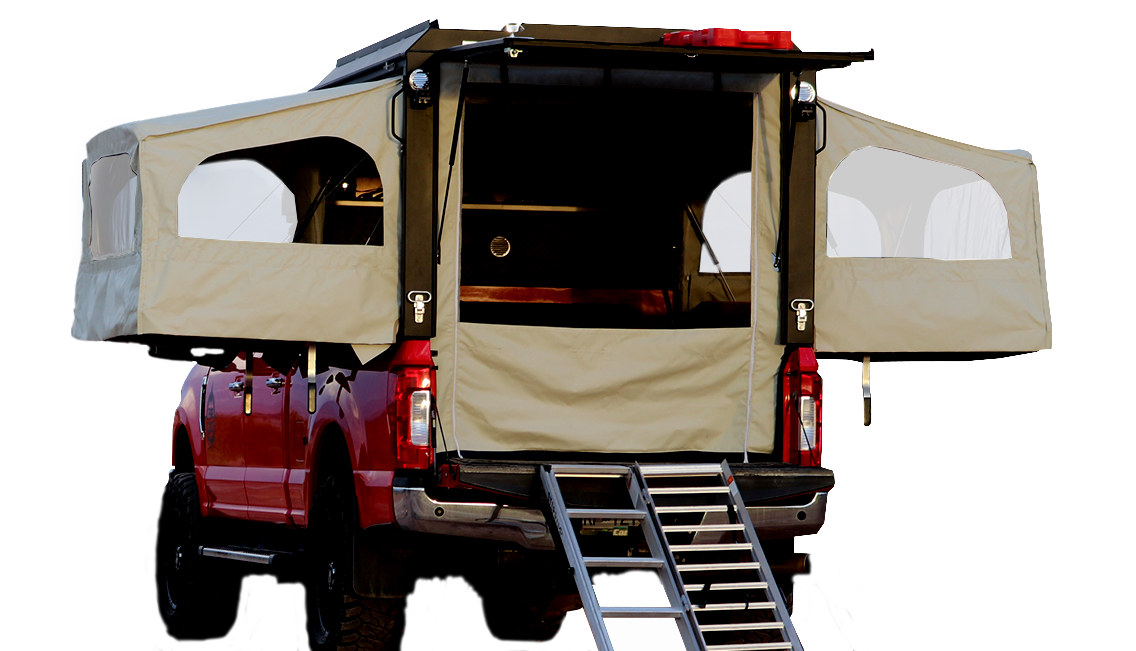 Two large side wall windows with privacy covers and mosquito screens
No ladders to climb to get up into a bed
Durable vinyl backed canvas tenting with windows and mosquito screens
Architecturally engineered roof system designed to support extended drop down beds
Optional – Large rear entry zippered private tent screen door
Durable waterproof tenting with 6 windows and mosquito screens
The base price for the canopy is $18,600 USD
Experience the ultimate outdoor adventure with our feature-rich Far-Out Canopy, designed to provide comfort, durability, and convenience wherever your journey takes you. Please email us at info@far-outcamping.com with your name, truck model, phone number and preferred method of contact to begin your order request.
Contact Us
We also offer various customization options to suit individual preferences. These options include:
175w flexible solar panel installed with wiring into unit $690
Awning mount $275
Fold down table $345
Heater, diesel/propane, installed $2150
Electric generator, mounted $1475
Two side mounting rails $225 per side
Back door rails $225
Wall mounted storage with machine cut logo $325
Storage netting, front $125
Storage netting, roof $395
Curtains/rails $350
Step/handle $40
Bed extension with mattress $375