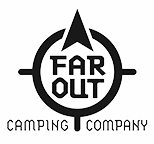 The Far-Out canopy transforms into a camper in just a few minutes. To set up the camper, the drop down bed latches are opened from the exterior, the beds slowly drop to horizontal, the attached tenting is ready to be propped up with the tent support poles, then adjust the support legs – within a minute, you are done!
TO SET UP YOUR FAR-OUT CANOPY:
That's it, you're set up and ready to start your adventure in under two minutes!
Features and Pricing